Why choose water-based inks for your tees?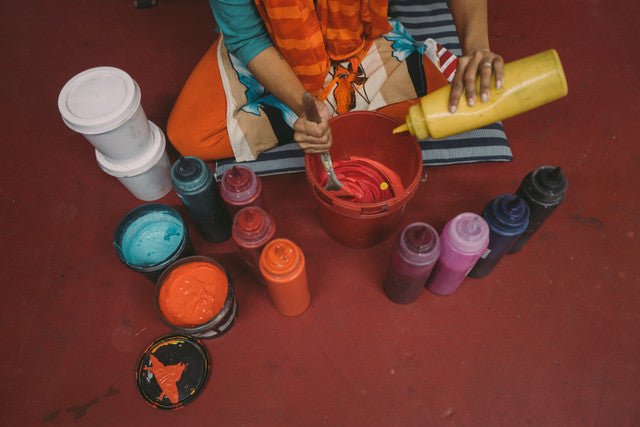 We know that your print is an integral part of your custom product, so we want to make sure our techniques are delivering everything you need.  Here at Joyya we use water-based ink in our printing because we want our customer's designs to look their absolute best.
Water-based ink utilizes water as the primary solvent to carry pigment. This type of ink has been used in screen printing since the mid-1900s when the screen printing industry was booming and many artists were predominantly using water-based ink. 
American artist Andy Warhol quickly became famous for his iconic screen-printed images of celebrities, sensational newspaper stories, soup cans, etc. - all done using water-based inks. 
Prints made with water-based inks are so soft and lightweight.
How do you want your final garments to feel? Soft and wearable, right?
Water-based inks are a fantastic choice for a great feeling final product. When cured using heat, the water-based solvent of the ink evaporates, leaving only the pigment compound behind. There is no excess deposit of ink onto the fabric and the ink blends seamlessly with the fibers of the fabric. Result? You get super soft tees with beautiful prints that won't crack or peel.
Water-based inks ensure an accurate and detailed print.
If superior quality is your priority, water-based inks are the way to go; the water in the ink ensures great absorption into the fabric. These inks produce detailed designs with sharper edges and vibrant colors so that you get the perfect look for your logo or custom designs. 
Water-based inks mean you are making an eco-friendly choice.
In the printing industry, the two most popular ink options are plastisol's and water-based ink. Plastisol contains PVC (Poly Vinyl Chloride) which is basically liquid plastic. Water-based ink on the other hand has no PVC or plastic component making it the best choice for an organic purchase. With more and more informed consumers demanding a greener choice, water-based inks are a safe and responsible option that we are proud to offer.
Free flow of air and moisture keeps you comfortable all day.
The best canvas for water-based inks is 100% organic cotton canvas, bi-blends, and tri-blends. Water-based ink helps in retaining the breathability of these fabrics. With the use of plastisol ink the print itself may appear thicker and 'heavier' and therefore less breathable. With our inks the main solvent used is water, therefore the ink seeps deeply into the fabric rather than creating a thick slab on top.
The colors remain vibrant and true, even after many wears and washing.
Since water-based inks dye the fabric, they will last as long as your garment does. Prints created with water-based inks are long-lasting, durable and are unlikely to peel and crack, even after time. Your part - follow the wash and care instructions carefully to enjoy your tees longer.
Screen -printing at Joyya:
The quality of our products is important to us. So too is the health of the people who make them and our environment. Joyya cotton is dyed using a 100% organic process that does not pollute waterways or harm the environment. Our Kolkata facility uses water-based inks for screen printing, avoiding exposure to harmful petro-chemicals and compounds.
Whatever the design you have in mind, we can help you turn it into reality. We have a fantastic range of customizable products that are ideal for printing. Click here, to get in touch with us.
---